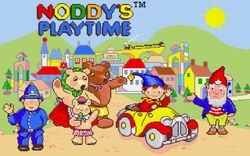 Noddy's Playtime is an edutainment game aimed at children between 3 to 8 years old. The game is based around Enid Blyton's Noddy books, and the accompanying TV series.
It consists of several mini-games, accessed by a driving section where the player drives Noddy's car between different places in Toytown. The games are: Railway Station (memory game), Post Office (maths), Market Place (reading), Chimney House (music), Noah's Ark (jigsaw puzzle), Farm Yard (matching), N & B Works (odd-one-out) and Noddy's Paint Pot (art). The different ages that the game is aimed at are catered for by having three different difficulty levels which make the games harder for older children.
Box Blurp
[
]
Welcome to Toy Town and the amazing world of Noddy's Playtime, a unique graded educational and creativity package for young children.
Noddy's Playtime contains no less than 10 exciting programs including:
Driving Noddy's car around Toy Town and interacting with Noddy's friends.
8 carefully designed locations with specific tasks related to the early requirements of the National Curriculum.
A full junior art package, Noddy's Paint Pot, which has endless options assisting in your child's creative development.
The most complete entertainment and learning packages for young children.
Game Play
[
]
Railway Station - Send the Toy Town train on its journey by using memory, shape and colour matching skills.
Noah's Ark - Help Mr Noah to load his ark with animals by completing animal Jigsaw puzzles.
Post Office - A wonderful scene which explores numbers recognition through counting to simple artithmatic.
Farm Yard - Identify the matching halves of familiar farm and country animals.
Market places - This lively activity introduces letter and word recognition with large selection of intresting objects on Dina Doll's stall.
N & B Works - Find the odd one out and keep the wheels of Toy Town's factory in motion.
Chimney House - Develop elementary music skills with Angela Goldenhair's Keyboard.
Noddy's Paint Pot - This simple to use package, which includes freehand draw, line draw, colour fill and pattern fill, will creatively entertain children for hour after hour.
Gallery
[
]
External Links
[
]